Camp EDC 2019 Passes Are Now on Sale!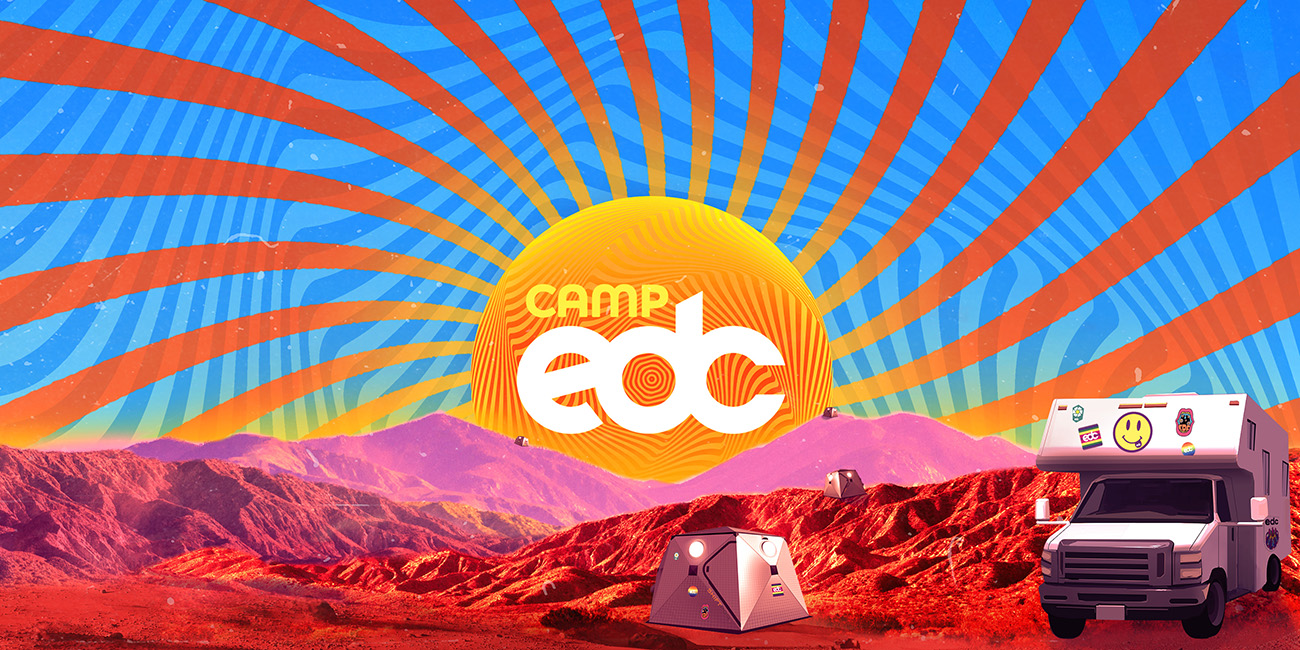 Headliners, you can now get your summer started early: Camp EDC 2019 passes* are on sale! Next year, you can once again camp Under the Electric Sky with the return of Camp EDC, our fully immersive on-site camping program, at EDC Las Vegas 2019, taking place Friday, May 17, through Sunday, May 19, at Las Vegas Motor Speedway.
EDC Las Vegas is an 18+ event, and you will need to show proper identification to enter the festival.
The inaugural Camp EDC, which we debuted this past May, was an amazing, all-inclusive community experience. We transformed Las Vegas Motor Speedway into a magical playground for camping Headliners, who experienced all sorts of awesome transformational activities—including yoga workshops, standup comedy, daytime pool parties, a curated guest speaker series, and much more—at the Mesa, a bustling hub of entertainment, events, and amenities. Camp EDC also provided the quickest and most efficient entry into EDC Las Vegas, allowing for shorter wait times and easier access to the festival each day.
Next year, we're giving Headliners an enhanced Camp EDC experience with new experiential activities and improved amenities—including a stronger power grid, more bathrooms and showers, improved site layout, wayfinding, and more.
Heads up: You can grab your Camp EDC passes at the lowest rate available via Tier 1 pricing for passes and layaway options, which ends Sunday, October 7 at 11:59pm PT.
Check out a helpful breakdown of the full lodging options below. Got questions? Head to the EDC Las Vegas website for more information on Camp EDC, our Camp EDC Guidelines, and the very useful Camp EDC FAQ page.
Moon Glow Camping offers the luxury of a pre-setup ShiftPod2, an air-conditioned shelter system constructed with weather-resistant fabric to protect against the elements, accommodating up to four people. Bedding is not included. Moon Glow Camping passes start at $999, plus taxes and fees. Layaway deposits start at $174.99.
RV Camping allows Headliners to drive their own RV on-site and accommodates up to eight people. RV Campers will receive: a dedicated RV site; options for power hookups, RV water refills, and pump-outs; and access to all Mesa activities, as well as showers and bathrooms. RV Camping passes start at $279, plus taxes and fees. Layaway deposits start at $49.99.
Relive some of our favorite moments from the first-ever Camp EDC in our official photo gallery, and get pumped for next year with the official EDC Las Vegas 2019 trailer. Stay tuned to the official EDC Las Vegas website for all the latest news and updates.
*All Headliners must present an EDC Las Vegas festival pass at the time of check-in to Camp EDC. No one without a festival pass will be permitted entry to the campground. A camping pass does not include a festival ticket and does not grant entry into the gates of EDC Las Vegas. To purchase festival passes, please click here.
EDC Las Vegas 2019 takes place Friday, May 17, through Sunday, May 19, at Las Vegas Motor Speedway. Tickets are on sale now. For more information, visit the official website.
Follow EDC Las Vegas on Facebook | Twitter | Instagram
---
Share
---
Tags
---
You might also like