Audiophiles Go Gaga for World's Loudest Wireless Consumer Speaker, the Gold Phantom
How would you fancy a wireless speaker in your bedroom that could blast out sound as loud as a nightclub? This is exactly what the audio and tech world is losing its mind over at the moment, with the Gold Phantom speaker hyped as the most powerful consumer speaker ever.
Essentially an upgrade of the existing Phantom speaker that was already insanely overpowered to begin with, the Gold Phantom ups the stakes by offering eight times more power than its predecessor at 4,500 watts and 108 decibels, with a titanium tweeter that is capable of frequencies up to 27kHz. Plus, it connects to your devices via Bluetooth, weighs a colossal 25 pounds, and with its gold-plated aluminum design, it looks like some form of weird alien egg.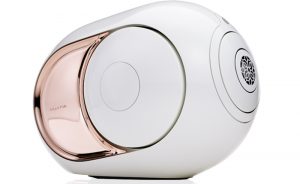 "The speaker is bone-shakingly loud, but the party trick is most definitely the bass performance, which feels as if your organs are being rearranged by mystical audio sorcery," Wired magazine says.
"Calling the Devialet Gold Phantom a Bluetooth speaker is akin to calling the Harmony of the Seas a rubber dinghy… That's 4,500W of sheer audio muscle, battering into your earholes like a SWAT team destroying a front door using an 18-wheeler truck," says tech blog Pocket-Lint, which labels the Phantom Gold as the best, most powerful wireless speaker money can buy.
"A single Devialet Phantom speaker can replace an entire room's worth of surround-sound audio gear. I was skeptical at first, but when I heard it in our studio, it literally blew me away," claims Mashable.
Watch the Gold Phantom in action, courtesy of Wired magazine.
---
Share
---
Tags
---
You might also like