Alesso 'Forever': A Track-by-Track Review
As a progressive house producer with credits connecting him to Swedish House Mafia, it's easy to say that Alesso's new album, Forever could just be a continuation of a decade of Swedish dance domination, not veering too far from a well-established course. However, in slowly unfurling the full scope of his creative vision as a pioneer-to-be of dance-as-pop music, Alesso excels in maintaining a legacy, as well as bravely pushing ahead to create a modern exploration into the… ahem… progression of progressive house.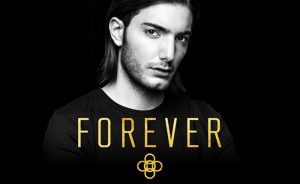 1. "Profundo"
The opening to Alesso's live DJ sets also opens his debut major label artist album. With stentorian synth blares and what compares well to sounds from SHM's "One" and "Antidote," it's as if he's been handed some very familiar tools and is now setting them out on the table before committing to the sonic surgery that will transpire on this album.
2. "PAYDAY"
Thumping and funky with a zippy and darting build, this video game soundtrack lead excels as an opening track . The piano melody operates well in the middle of the production, operating more as a landscape developer that carves out the depth and scope of Alesso's creative vision for the album-to-come.
3. "Heroes (we could be)"
Tove Lo's yearning pop ballad was the kind of lead-in single that labels dream of for a forward-thinking mainstream album like this one, and it's still great. When the timpani drums kick in during the build, it's a harbinger of something so much more to come, which both producer and vocalist deliver. There are at least 10 deliberate earworms in this production. Alesso shows that he knows what crossover confection sounds like, and he delivers it in great measure.
4. "Tear the Roof Up"
For fans of the Tinie Tempah and Swedish House Mafia collaboration "Miami 2 Ibiza," or any time that legendary rap party exhorter Fatman Scoop has appeared on an EDM track in the past 12 months, this operates like a maximal acid-house remix of those tracks. Wobbling synths, a pitched and bass-heavy male voice, and massive kicks ensure that this one is indeed set to maximum fist-pump.
5. "Cool"
This track literally sounds like what a millennial-aimed luxury brand's product should feel like when worn by a supermodel in a commercial. Roy English's vocals ride freely along the top-line of the production. As well, a swinging, big-room-friendly groove occupies the track's bottom end. Idyllic festival party vibes abound here.
6. "Scars"
Ryan Tedder may statistically be modern pop music's most prolific and successful songwriter in terms of singles sold. He continues an excellent line of work alongside Alesso (remember "Calling" from 2012) here. If Tedder sings that "scars are beautiful," then they absolutely must be. The absolute confidence in his voice as instrument and songwriting as skill uplift this uniquely twinkling and undulating track to reach the far heights of the already-released, vocal-driven singles on the album.
7. "Sweet Escape"
As compared to the work of Tove Lo, Roy English and Ryan Tedder, Swedish DJ/producer Sirena's vocal performance on "Sweet Escape" is excellent—though underwhelming by pop vocal standards. By a standard of great dance music, the hip-swaying electro sound of the track bears Swedish house familiarities and meets expectations.
8. "Destinations"
If you love Zedd's insistence on reintroducing virtuoso levels of organic instrumentation into EDM, this piano-led track is up your alley. Frieze-like synths are added here, too, but the lack of that familiar galloping bassline (as well as that bassline seeming to magically drag you back to the dancefloor) makes this track a wonderful respite from the norm and for Alesso, a sound and style worth potentially exploring in greater detail.
9. "If It Wasn't for You"
Progressive house ballads are a specialty of Alesso's, and "If It Wasn't for You" continues this album's theme of delivering incredibly soulful moments that don't veer too far away from the established big-room EDM script. The bassline here is a thing of beauty, a steamrolling locomotive engine of a production being the final result.
10. "In My Blood"
The easiest way to describe what's happening here is if someone were to have shoved an entire, well-structured song into Martin Garrix's "Animals." Xylophone-style synths and enormous breakdowns are here, but Alesso remains true to his creative impulses in keeping that locked-in and guitar-driven bassline present. This allows for the production to have a little something extra in the lower end.
11. "Under Control"
Opulent. That's the only way to describe a track that pairs Alesso with big moneymaker Calvin Harris. Bold and bright synths in the upper half blend with an inherently danceable bassline. Hurts' vocals are swaddled in a mix that incites euphoria in just how big, broad, deep and lush it is. Exactly what fans of both producers should expect from a collaboration, this isn't a pop hit, but it's certainly a dance anthem supreme.
12. "All This Love"
Lyrically, this is an astoundingly well-written song. Pizzicato strings and trance-style feels in the lower end of the mix raise up to envelop the production in a cascade of overwhelming good cheer, making for an impressive bit of studio magic. Imagining what this track could do on a very expensive and properly calibrated sound system just makes you want to hand over all of the money to all of the A-list festivals and nightclubs where this track is certain to dominate.
13. "If I Lose Myself"
The echoing synths and guitar-with-pop-vocals-embedded is a trick that's getting overused in Top-40 pop of late. But when it's OneRepublic doing the singing, are we really trying to complain? Alesso dusts off the "Calling" playbook here: Choruses over glistening kicks in a breakdown make that song a worldwide hit, with likely the same expectation here. This one is a monster.
14. "Immortale"
Piano and violin are put to epic use on this legacy-claiming finale. More Daft Punk and less everything else, it's a jarringly audacious reach of a moment on an album that comfortably bangs, booms, soars and glides to a new level of excellence. Does it work? Certainly. Alesso's carving out his own unique excellence here, and setting the bar incredibly high for what's next feels almost necessary.
Follow Alesso on Facebook | Twitter | SoundCloud
---
Share
---
Tags
---
You might also like