Additional Artists and Curated Event Series Announced for Electric Forest 2019
Forest Family, we've got major news coming to you today from Electric Forest HQ. We've just announced the second round of artist additions for Electric Forest 2019. Plus, we've revealed this year's official Curated Event Series, which welcomes our favorite forward-thinking artists and collectives to host some proper throwdowns, including festivities with NGHTMRE & SLANDER PRESENT: GUD VIBRATIONS, Bassrush, and our very own Studio 54est.
Electric Forest 2019 is sold out. Visit the Official Wristband Exchange page to buy and sell wristbands.
Each year, Electric Forest invites a handful of global artists and collectives to curate a lineup and vibe on a different stage each night during the festival. Each curator partner creates a unique musical journey and experience, taking people to another dimension within the festival. As one of the most highly anticipated and popular attractions at Electric Forest every year, the Curated Event Series is the can't-miss party of the festival weekend.
With the Curated Event Series announcement come recent artist additions to the Electric Forest 2019 lineup, including DOOM FLAMINGO, EOTO, Escapade (Walker & Royce + Ardalan), Exmag (live band), Hannah Wants, Opiuo, Robotaki (live), SNBRN and more.
Get to know each of the Electric Forest 2019 Curated Event Series partners below, and visit the Electric Forest official website to explore the full festival lineup.
NGHTMRE & SLANDER PRESENT: GUD VIBRATIONS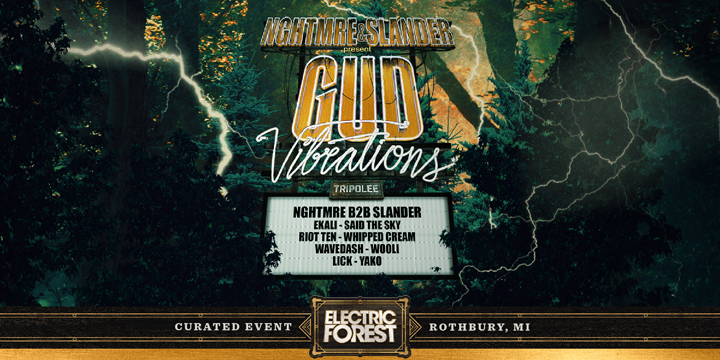 Featuring Ekali, Said the Sky, Riot Ten, Whipped Cream, Wavedash, Wooli, Lick, Yako

Thursday, June 27, at Tripolee
NGHTMARE & SLANDER PRESENT: GUD VIBRATIONS is all about positive vibes and heavy music coming together. It's a mixture of emotion and aggression with a lineup full of the best up-and-coming artists in bass music.
Bassrush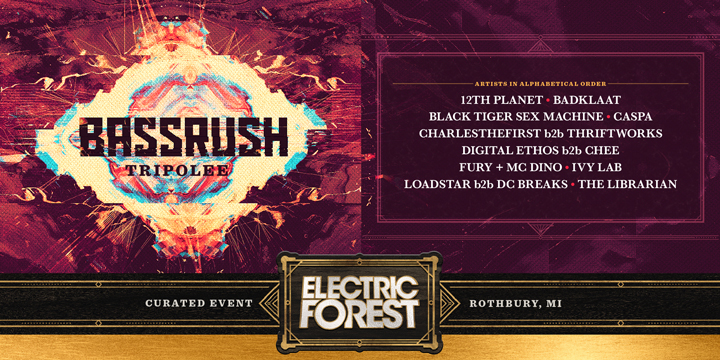 Featuring 12th Planet, BadKlaat, Black Tiger Sex Machine, CharlestheFirst, Thriftworks, Digital Ethos, Chee, Fury + MC Dino, Ivy Lab, Loadstar, DC Breaks, The Librarian

Friday, June 28, at Tripolee
Spawned from the Los Angeles drum & bass scene in the early 2000s, Bassrush has steadily become the premier platform for bass music artists and fans alike. Since its inception, Bassrush remains at the forefront of the ever-changing soundscape of bass music.
Studio 54est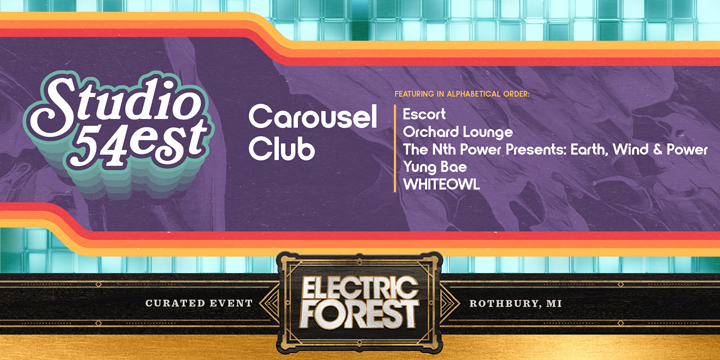 Featuring Escort, Orchard Lounge, The Nth Power Presents: Earth, Wind & Power, Yung Bae, WHITE OWL
Friday, June 28, at Carousel Club
Inspired by the infamous dance music era when disco reigned supreme, Studio 54est will pay homage to the 1970s NYC nightclub mecca Studio 54. We'll honor and celebrate the club's legacy of glitz, glamour, and good vibes on the dancefloor with a groovy musical lineup that will explore the progression of the disco sound from its traditional origins through today's contemporary spin. Can you dig it?
The sold-out Electric Forest 2019 takes place Thursday, June 27, through Sunday, June 30, at Double JJ Resort in Rothbury, MI. Visit the Official Wristband Exchange page to buy and sell wristbands. For more information, visit the official festival website.
Electric Forest is produced by Madison House Presents and Insomniac.
Follow Electric Forest on Facebook | Twitter | Instagram | YouTube
Follow Insomniac Events on Facebook | Twitter | Instagram | SoundCloud | YouTube | Spotify
---
Share
---
Tags
---
You might also like