A Behind-the-Scenes Look at the Making of the EDC Mexico 2016 Trailer
It's a madhouse on set as 12 young children run amok in the grassy fields of Los Angeles' Griffith Park one early Tuesday morning in mid-January. Out of frame, a frazzled mother sits cross-legged on the ground as she gently rubs her temples to ease the stress yielded by the frenzied surroundings.
The classic Hollywood phrase "Quiet on the set" bears no meaning here, and that's quite all right. From loud, screaming kids to the frightened shrieks bellowed by the day's beautiful models, today's video shoot requires noise—and lots of it.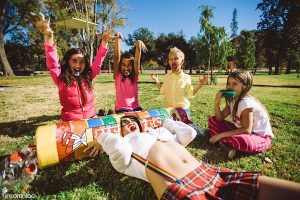 Photo Credit: Jake West
"We're losing glitter!" shouts Charles Houle, the video's first assistant director.
"Kids, I need you to go crazy!" fires back head director Bunny Eachon.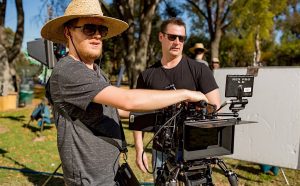 Photo Credit: Jake West
What seems like an erratic and hectic early-time fuss is really any given morning for the Insomniac team. And today's offsite shoot is nothing out of the ordinary for our talented video department.
Today's first shoot is part of a two-day production for the official EDC Mexico 2016 trailer, streaming in full above. Despite an early 7:30 am call time, the crew is in high spirits. Then again, it's easy to kick those morning grumpies when a dozen kids are fighting over piñata candy as they jump and scream in joy. Elsewhere, a group of six stunning, high-heeled models dressed as life-size sweets is literal eye candy for the camera and crew. The sun's bright rays are beating down on everyone's skin, yet the chilly January air is cold enough to merit communal brrrrrrrs.
Still, any day spent working outdoors beats the office humdrum by far.
As seen above, the EDC Mexico 2016 trailer follows a kids' party set in an outdoor public park. As one of the young boys smashes open a piñata, a stream of candies rains over the ground as collective screams emanate from the treats. It turns out those falling sweets actually contain full-grown adults: a bespectacled bookworm dressed in a white, knotted crop top and a giant Nerdies helmet; a life-size peppermint swirl princess; a sporty, disco-inspired diva with a huge chocolate Foxie Roll on her head; a raved-out butterscotch hard candy; a fluorescent pink, anime-style lollipop; and a spicy Hot Devil dressed in fiery red leather, with a devil's trident in hand and all.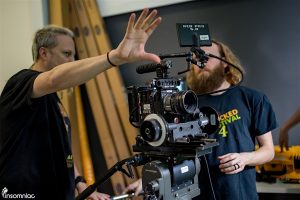 Photo Credit: Skyler Greene
Once the anthropomorphized candies hit the floor, all hell breaks loose as kids become cannibals and playfully devour the human confections.
"It's candybalism!" perfectly jokes one of the moms.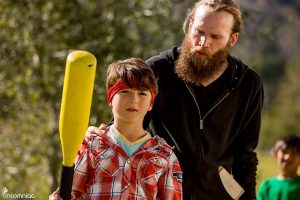 Photo Credit: Skyler Greene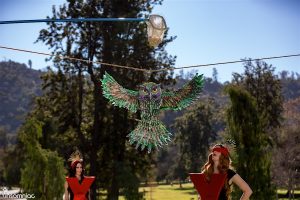 Photo Credit: Jake West
The director and crew scramble to catch the final bits of the day's shot list before the sun's critical natural light fades.
"Kids! Follow the Foxie Roll! Get her!" shouts Eachon as he directs the kids to catch the big-headed chocolate.
As the 4pm wrap time approaches, both crew and kids are visibly exhausted.
"Do you need a nap or something?" snaps one of the moms toward one particularly weary and cranky kid. But the whole set skips naptime to power through these final shots.
The following afternoon sees a whole workday's worth of green-screen filming of the candied beauties, which is to be followed by hours of editing and special effects magic spliced with a montage of festival footage from previous years of EDC Mexico. The result: a mischievously amusing trailer playing up the family aesthetic unique to EDC Mexico.
Check out the full behind-the-scenes photo gallery.
EDC Mexico 2016 takes place February 27–28 at Autódromo Hermanos Rodríguez in Mexico City. Stay tuned for more details on what promises to be an unforgettable show.
Tickets are available now. For more information, visit the official website.
Follow EDC Mexico on Facebook | Twitter | Instagram
---
Share
---
Tags
---
You might also like